Functional Rehabilitation at
East Park Integrative Chiropractic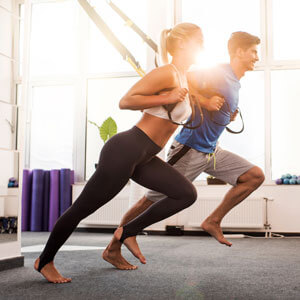 One of our biggest goals for patients is to help them get back to doing things and living the life that they love. When injury or pain strikes, that can often feel light years away.
Thankfully, Dr. McKamey is proud to offer functional rehabilitation and physical therapy for patients, with the care received developed completely for your needs and goals.
Here's how it works.
What is Functional Rehabilitation?
Patients who are already visiting us for chiropractic care may be recommended functional rehabilitation. If you aren't a current chiropractic patient, we'll also welcome you with open arms to experience how rehab or PT may benefit you.
When we first start with your rehab plan, we'll aim to figure out if your problem is neurologic or not—essentially, our goal is to reestablish the connection between your brain and problem area.
We'll then devise a care plan focused on your unique needs which will likely include a variety of exercises and stretches that you can do in the comfort of your own home. We'll show you exactly how to perform each stretch or exercise, so that when you leave, you can confidently complete them without risking reinjury.
Your care may also consist of other modalities to help speed healing, including electrical stimulation, ultrasound therapy, laser therapy and heat or ice therapy when you visit us for appointments.
Book Your Appointment
Ready to find out how we can help you unlock your best health yet, naturally? We'd love to work with you and get you back to full function. Explore what that looks like for you when you contact us to book an appointment today. We're happy to check your insurance coverage for you to determine if it's covered at no cost to you.
We can't wait to welcome you into our practice.
CONTACT US »
---
Functional Rehabilitation Salisbury MD | (443) 880-3830